Publication Type:
Industry & Econ Analysis (332)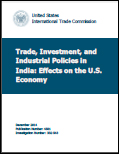 Note: On January 15, 2015, the electronic copy of this report was corrected to address an error in the description of the implementation of the India's Telecommunication License Amendments. Changes affected pages 20, 51, 173, and 191.
U.S. exports to and investment in India would be significantly higher if not for Indian policy barriers, reports the U.S. International Trade Commission (USITC) in its new publication.
Completed for the U.S. House of Representatives Committee on Ways and Means and the U.S. Senate Committee on Finance, the report provides information on the effects of a wide range of Indian policies that limit U.S. exports to and investment in India. These policy measures include tariffs and customs procedures, foreign direct investment restrictions, local-content restrictionsquirements, treatment of intellectual property, taxes and financial regulations, regulatory uncertainty, and other nontariff measures, such as unclear legal liability, price controls, and sanitary and phytosanitary standards.
The report features the results of a USITC survey of U.S. firms in selected industries that are currently doing business in India, a quantitative analysis (using economic modeling) of the effects of Indian policy measures on U.S. workers and the U.S. economy, and qualitative research into these effects. It also includes case studies and examples illustrating ways that the policies affect particular companies or industries.