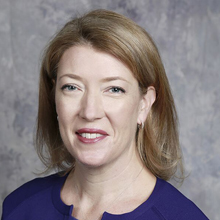 Amy A. Karpel, a Democrat of Washington State, was nominated to the U.S. International Trade Commission (USITC) by President Donald J. Trump on February 27, 2018; renominated on January 16, 2019, and June 5, 2019; and confirmed by the U.S. Senate on August 1, 2019.  She was sworn in as a member of the Commission on August 26, 2019, for a term expiring on June 16, 2023. 
Prior to her Commission appointment, Commissioner Karpel spent more than 13 years at the Office of the U.S. Trade Representative (USTR), including as Chief Counsel for Negotiations, Legislation and Administrative Law from October 2012 to February 2017. While at USTR, Commissioner Karpel engaged in the negotiation and implementation of U.S. international trade agreements and served as lead counsel in disputes before the World Trade Organization.  She handled a range of international trade matters, including with respect to intellectual property, technical barriers to trade, labor and environmental protections, and information communications technology.
Prior to her USTR service, Commissioner Karpel was an associate attorney at the law firm of Stewart and Stewart in Washington, DC.  In this role, she represented clients in antidumping and countervailing duty proceedings before the USITC and the Department of Commerce.  She also litigated appeals before the Court of International Trade and the Court of Appeals for the Federal Circuit.
Commissioner Karpel holds a Bachelor of Arts degree, cum laude, from the University of Washington and a Juris Doctor degree, cum laude, from the Washington College of Law at American University.  Originally from Olympia, WA, she resides in Washington, DC, with her husband and daughter.