Publication Type:
Industry & Econ Analysis (332)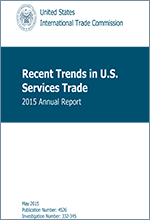 Summary:
The United States is the world's largest services market and was the world's leading exporter and importer of services in 2013, reports the U.S. International Trade Commission (USITC) in its annual review of U.S. trade in services.
This year's report focuses on distribution services and includes chapters on three specific industries: logistics services, maritime transport services, and retail services.
The report describes trade in services and its two main components -- cross-border transactions and affiliate sales. Highlights include:
In 2013, the value of U.S. commercial services exports was $662.0 billion (14 percent of global services exports), while imports totaled $431.5 billion (10 percent of global services imports). Preliminary data for 2014 indicate that U.S. commercial services exports exceeded those in 2013 by 3.4 percent, or $22.7 billion, whereas U.S. imports were 4.1 percent higher ($7.7 billion) in 2014 than in 2013.

From 2012 to 2013, U.S. cross-border services exports rose 5.1 percent (up from 5 percent in 2012), while U.S. services imports grew 3 percent (down from 4.5 percent in 2012). Distribution services accounted for 7 percent of exports and 14 percent of imports, resulting in a trade deficit of $13.6 billion in this subsector in 2013.

Within the services sector, sales by foreign affiliates of U.S. firms -- the leading channel by which many U.S. services are delivered to foreign markets -- rose by 3.7 percent to almost $1.3 trillion in 2012. In 2012, top markets for sales by U.S.-owned affiliates were the United Kingdom (15 percent), Canada (10 percent), and Japan and Ireland (6 percent each). Distribution services accounted for $399.1 billion, or 31 percent, of the total.

In 2013, private sector distribution services contributed $2.3 trillion to U.S. gross domestic product (GDP) and accounted for nearly 17 percent of total U.S. private sector GDP. The output of these services grew by 1.7 percent in 2013, slightly slower than the GDP growth in the private sector (2.2 percent). Among the distribution services industries, the GDP of maritime transport services grew the fastest in 2013 at 9.4 percent, followed by retail trade (2.4 percent), wholesale trade (1.6 percent), and logistics services (0.8 percent).

The distribution services sector was one of the most important contributors to U.S. private sector employment in 2013. Overall, distribution services accounted for more than 21 percent of total private sector employment, or 23 million full-time equivalent (FTE) employees -- a share that has remained stable since 2008. Employment in retail services represented 57 percent of this total, followed by wholesale services (24 percent), logistics services (18 percent), and maritime transport services (0.3 percent). Labor productivity in distribution services grew at a steady, but modest pace during 2008–13, with an average output per worker of $98,370 in 2013.


Since trade in distribution services is driven by consumer demand, fluctuations in income and consumer spending can have profound effects on the health of the industry. The global economic recession of 2008–09 caused revenue declines for the majority of distribution providers. Further, as global economies become more integrated, the distribution services industry has needed to evolve rapidly to address issues such as shifting global supply chains (i.e., "near-shoring"), advances in digital technology (i.e., e-commerce), and rising cost competition across all factors of production and distribution (i.e., transport and inventory costs). Most notably, technology has increasingly enabled manufacturers to bypass traditional wholesalers and retailers. Consequently, distribution services suppliers have grown more adaptive as supply chains compress and the use of Internet technologies to purchase goods increases.

The USITC hosted its eighth annual services roundtable on October 16, 2014. The discussion, summarized in the report, focused on services trade in sub-Saharan Africa, ongoing international trade in services negotiations, and the assessment of services commitments.
View the report at: http://www.usitc.gov/publications/332/pub4526.pdf.