Publication Type:
Industry & Econ Analysis (332)
The U.S. International Trade Commission announces the release of:
Generalized System of Preferences: Possible Modifications, 2014 Review
USITC Publication 4562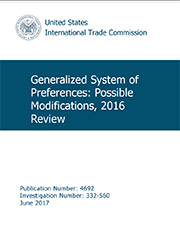 Summary:
Requested by the U.S. Trade Representative, the report provides advice on the likely impact on competing U.S. industries of competitive need limitation waivers specified in section 503(c)(2)(A) of the Trade Act of 1974 for two Harmonized Tariff Schedule (HTS) subheadings for Thailand.
The HTS subheadings being considered for competitive need limitation waivers are: 2008.19.15 (prepared or preserved coconut) from Thailand and 7408.29.10 (copper wire alloys, wire, coated or plated with metal) from Thailand. The USITC also provided advice with respect to whether like or directly competitive products were being produced in the United States on January 1, 1995, and the probable economic effect on total U.S. imports, as well as on consumers, of the requested waivers. The USITC provided the requested data separately and individually for each U.S. Harmonized Tariff Schedule subheading subject to this request.

"Competitive need limits" represent the maximum import level of a product that is eligible for duty-free treatment under the GSP. Once the limit is reached, trade is considered "competitive," benefits are no longer needed, and imports of the article become ineligible for GSP treatment, unless a waiver is granted.
The USITC also provided data on the addition of five HTS subheadings for least-developed developing beneficiary countries (LDDBC); the data included U.S. production, imports, exports, and consumption figures for five cotton articles for the period 2012-2014. The HTS subheadings being considered are:
5201.00.18 (cotton, not carded or combed, having a staple length under 28.575 mm (1-1/8 inches), n/harsh or rough, nesoi);
5201.00.28 (cotton not carded or combed, harsh or rough, staple length of 29.36875 mm or more but under 34.925 mm & white in color, nesoi);
5201.00.38 (cotton, not carded or combed, staple length of 28.575 mm or more but under 34.925 mm, nesoi);
5202.99.30 (cotton card strips made from cotton waste having staple length under 30.1625 mm & lap, sliver & roving waste, nesoi); and
5203.00.30 (cotton fibers, carded or combed, of cotton fiber processed, but not spun, nesoi).
View the report at: http://www.usitc.gov/publications/332/pub4562.pdf