Publication Type:
Industry & Econ Analysis (332)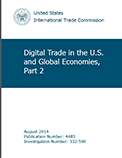 Digital trade -- domestic commerce and international trade conducted via the Internet -- has far-reaching effects on the U.S. economy that have fundamentally transformed many aspects of the ways businesses operate and interact with one another, reports the U.S. International Trade Commission (USITC) in its new publication.
Completed the report at the request of the U.S. Senate Committee on Finance, the report provides information on the value of U.S. digital trade and the potential growth of this trade, and it provides insight into the broader linkages and contributions of digital trade to the U.S. economy. The report includes a survey of U.S. firms in industries particularly involved in digital trade (digitally intensive firms), examines the effects of notable barriers and impediments to digital trade, and presents case studies that examine the importance of digital trade to selected U.S. industries. Report highlights follow.
View the publication at: http://www.usitc.gov/publications/332/pub4485.pdf