Publication Type:
Industry & Econ Analysis (332)
Publication Topic:
Trade Preference Programs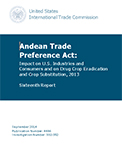 Summary
Andean Trade Preference Act (ATPA) imports during 2013 continued to have a negligible overall effect on the U.S. economy and consumers, reports the U.S. International Trade Commission (USITC) in its new publication.
The ATPA requires the USITC, an independent, nonpartisan, factfinding federal agency, to submit biennial reports to the President and the Congress on the economic impact of the ATPA program on U.S. industries and consumers, and on the effectiveness of the program in promoting drug-related crop eradication and crop substitution efforts of the beneficiary countries. In this year's publication, which focuses on calendar year 2013, the USITC reported:
ATPA preferential treatment expired on July 31, 2013. Ecuador is the sole remaining beneficiary country under the ATPA program. Peru and Colombia ceased to be beneficiary countries in 2010 and 2012, respectively, after entering into free trade agreements with the United States.

Since its enactment in 1991, the ATPA has had a minimal economic impact on the U.S. economy as a whole and on the great majority of U.S. industries and consumers. This continued to be the case during 2013. If Congress extends the President's authority to provide preferential treatment under the ATPA, and if the President continues to designate Ecuador as a beneficiary country, the probable future effect of the ATPA on the overall U.S. economy and on U.S. industries is likely to be minimal, given the small share of imports from Ecuador in total U.S. imports.

The USITC estimates that the effect during 2012-13 of the ATPA in reducing illicit coca cultivation and promoting crop substitution efforts in Ecuador continued to be small and mostly indirect, given that no significant coca cultivation exists in Ecuador.

U.S. imports of $2.6 billion from Ecuador under the ATPA preferences during 2013 represented a minor share (0.11 percent) of the total value of U.S. merchandise imports from the world.

Petroleum and petroleum products dominated the list of leading ATPA imports from Ecuador that benefited exclusively from the ATPA, accounting for 92.8 percent of the value of the 20 leading items in 2013. The five leading items benefiting exclusively from ATPA in 2013 were heavy crude oil, fresh cut roses, tuna in airtight containers, light crude oil, and light oil mixtures.

Duty-free entry of tuna in airtight containers and fresh cut roses from Ecuador provided the largest gains in U.S. consumer welfare. However, these two products also accountedfor the largest losses of U.S. tariff revenues from ATPA preferences.

The potential relative displacement effect on U.S. producers was small for all 20 leading items analyzed. The analysis indicates that ATPA preferences did not result in a displacement of more than 5 percent of domestic production for any of the 20 ATPA-exclusive products imported from Ecuador.