Publication Type:
Industry & Econ Analysis (332)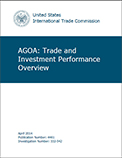 Benefits under the African Growth and Opportunity Act (AGOA) resulted in increased U.S. imports of automobiles, refined petroleum products, and apparel from AGOA countries during 2001-2013, reports the U.S. International Trade Commission (USITC) in its most recent publication.
Produced at the request of the U.S. Trade Representative, the report describes, reviews, and analyzes the trade and investment performance of beneficiary countries under the AGOA from 2000 to 2013. The report also identifies products that have the potential to be exported to the United States under AGOA or to be integrated into regional and global supply chains. The report also examines changes in the business and investment climate in sub-Saharan Africa (SSA) and lists reciprocal trade agreements involving SSA countries.
The USITC reported:
The majority of U.S. imports from AGOA countries enter under the AGOA program. Such imports accounted for about 70 percent of all imports from AGOA countries during 2008-13. On average, crude petroleum accounted for almost 90 percent of these imports throughout the period. Excluding crude petroleum, U.S. imports under the AGOA are concentrated in three sectors - transportation equipment (primarily passenger motor vehicles from South Africa), refined petroleum products, and apparel. These products accounted for 89 percent of U.S. non-crude petroleum imports under AGOA in 2013.

The products that experienced major export growth between 2000 and 2013 were limited to key sectors, with the top 10 products (excluding crude petroleum) accounting for over 90 percent of the growth in value over the period. The leading product group - motor vehicles - supplied about one-third of the growth and totaled $2.1 billion in 2013. Refined petroleum products followed, accounting for one-quarter of the growth and totaling $1.3 billion in 2013. Other major growth products were apparel; ferroalloys; aluminum mill products; cocoa, chocolate, and confectionery; miscellaneous inorganic chemicals; certain organic chemicals; edible nuts; and citrus fruit.

Despite generally low rates of participation in the downstream activities of global and regional supply chains (GSCs and RSCs), a review of literature suggests that SSA sectors with the greatest potential to further integrate into GSCs and RSCs are (1) agricultural products and foodstuffs, (2) leather and leather products, (3) textiles and apparel, and (4) extractive natural resource products. The literature also shows that products with the greatest potential for export to the United States are agricultural products, handcrafts and woodcrafts, and leather and leather products.

The report found that AGOA has had a positive impact on FDI inflows, particularly in the textile and apparel sector in Kenya, Lesotho, Mauritius, Swaziland, and Botswana, but also in South Africa's automotive industry. Overall, the program's trade benefits and eligibility criteria appear to have motivated AGOA beneficiary countries to improve their business and investment climates.

SSA countries, often as regional blocs, have pursued reciprocal trade agreements with non-SSA partners. An important aspect of many of these trade agreements is regional integration of SSA countries. At the same time, many of these agreements have asymmetrical provisions which generally allow SSA partners to reduce tariffs over a longer period of time than the non-SSA partners.

The findings of studies estimating AGOA's impact on exports from SSA vary, ranging from broad positive effects to no effect, or to positive effects only in certain sectors, such as apparel. These varied findings can be attributed to differences in study methodology, time periods assessed, and level of product aggregation.
View the publication at: http://www.usitc.gov/publications/332/pub4461.pdf