Publication Type:
Industry & Econ Analysis (332)
Publication Topic:
Service Industries
Western Hemisphere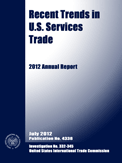 Summary
The United States is the world's largest services market and was the world's largest cross-border exporter and importer of services in 2010.1 In recent years, global trade in services showed signs of recovering from the economic downturn, with both U.S. exports and imports of services increasing rapidly.
The 2012 Recent Trends in U.S. Services Trade report, part of an annual series prepared by the U.S. International Trade Commission (Commission or USITC), provides an overview of U.S. trade in services. This year's report focuses primarily on recent developments in the banking, insurance, logistics, retail, securities, and telecommunication services industries.2 These infrastructure services are critical inputs to every sector and directly affect the competitiveness and productivity of the overall economy. The United States remained a world leader in these industries, generating a cross-border trade surplus in all but the insurance and logistics industries in 2010.
During both the global economic downturn and the recent recovery in trade volumes, infrastructure services firms have continued to develop new technologies, test new business models, and otherwise adapt to changing commercial environments. New financial regulations have impacted the banking, insurance, and securities industries, while innovative technologies such as e-commerce platforms and smartphones have affected the retail and telecommunications industries. Most infrastructure services industries face relative maturity and saturation in developed markets, in contrast with rapid growth and fragmentation in developing markets.
View the publication at: http://www.usitc.gov/publications/332/pub4338.pdf