Publication Type:
Industry & Econ Analysis (332)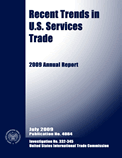 Summary
The USITC's annual compendium Recent Trends in U.S. Services Trade is now available. This report includes data and analysis to help you understand changes in U.S. trade in services.
Recent Trends in U.S. Services Trade presents:
a statistical overview of U.S. trade in services and highlights the service sectors and geographic markets that contributed substantially to recent services trade performance;


chapters on specific service sectors that analyze global competitive conditions in the industry, examine recent trade performance, and summarize activities intended to remove sectoral trade impediments;


this year's report focuses primarily on professional services.
Sectors include:



advertising;
education;

healthcare; and
legal service
The 2009 Annual Report covers trade in services from 2002 to 2007.

View the publication at: http://www.usitc.gov/publications/332/pub4084.pdf.